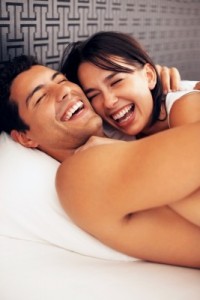 Sexy-Time is an important part of Manentine's Day and will certainly be one of your man's most anticipated activities.
This is one of the clearest ways to show him that you love him.  It's fun, but more importantly, being intimate with your partner on a regular basis is a key part of keeping your relationship healthy and happy.
Here are just a few reasons (as if you needed any more) that you and your man should partake in sexy-time this Manentine's Day.
Happiness
A survey of 5,000 people showed that married men are 135% more likely to report happiness than single men.  Could it have something to do with the fact that sex happens more frequently for cohabiting couples?  According to a national sex survey, conducted by the University of Chicago, sexual activity is 25% to 300% greater for married couples compared to non-married people.
Health
A study tracking 1,000 middle-aged men over the course of a decade concluded that sexual activity may have a protective effect on health.  By comparing men according to age and health, researchers found that men who had the highest frequency of orgasms had a death rate 50% lower than men who did not have sex frequently.
Stress Relief
Researchers have found that sex releases anxiety, lowers stress hormones, and can help people cope with mental pressure for at least a week.  In a study, 46 men and women were put in stressful situations involving public speaking and working on math problems in front of a tough audience.  Those who recently had sex were the least stressed and their blood pressure returned to normal faster after the public speaking test.
Looks
During the average lovemaking session, about 20 minutes, an average weight man looses around 150 calories. That's more than double the caloric expenditure of sitting alone on the couch.