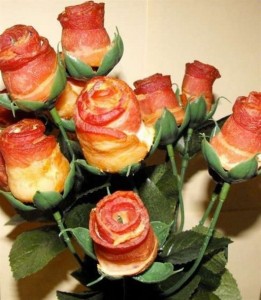 Men might not want roses but they still deserve something to make them feel special.  Great manly alternatives to flowers include:
Beer Bouquet
Pick up his favorite 6-pack and tie a bow around it! If you want to make a fancy beer bouquet here's a list of the best beers of 2011.
Beef Jerky Bouquet
Another fun manly idea is a beef jerky bouquet.  It's a simple, but effective way to make your man's mouth water!
Bacon Bouquet
Are those roses? No, that's bacon! Here is a great guide to help you make a bacon bouquet of your very own.