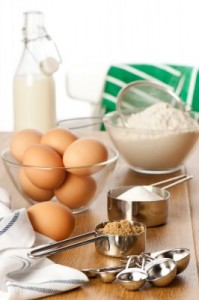 It's said that the way to a man's heart is through his stomach. Men love good food and Manentine's Day is the perfect day to spend time warming your man's heart by making him homemade, manly food.
Did you know that Manentine's Day shares it's date, 3.14, with Pi Day? No wonder it's the perfect day to make a pie for your man!
Below are some man approved recipes to help you make your man a special Manentine's Day dinner that will have him craving more:
Starters
Beer Cheese Soup
Ingredients:
1 1/2 cups diced carrots
1 1/2 cups diced onion
1 1/2 cups diced celery
2 cloves garlic, minced
1 teaspoon hot pepper sauce
1/8 teaspoon cayenne pepper
1/2 teaspoon salt
1/4 teaspoon black pepper
3 cups chicken or vegetable broth
2 cups beer
1/3 cup butter
1/3 cup flour
4 cups milk or half and half
6 cups shredded sharp Cheddar cheese
1 tablespoon Dijon mustard
2 teaspoons Worcestershire sauce
1 teaspoon dry mustard
popped popcorn, for garnish
Directions:
In a large saucepan over medium heat, stir together carrots, onion, celery, and garlic. Stir in hot pepper sauce, cayenne pepper, salt, and pepper. Pour in broth and beer and simmer until vegetables are tender, about 12 minutes. Then remove from heat.
Meanwhile, heat butter in a large soup pot over medium-high heat. Stir in flour with a whisk; cook, stirring until the flour is light brown, about 3 or 4 minutes. Gradually stir in milk, whisking to prevent scorching, until thickened. Remove from heat and gradually stir in cheese.
Stir beer mixture into cheese mixture. Stir in Dijon mustard, Worcestershire sauce, and dry mustard. Adjust for hot pepper sauce. Bring to a simmer and cook 10 minutes. Serve topped with popcorn.
Man Salad – Potato Salad With Chipotle Peppers
Ingredients:
1/2 red bell pepper, diced
3 scallions, finely sliced
celery, sliced
1 tablespoon fresh cilantro or 1 tablespoon parsley, chopped
1 cup mayonnaise
2-4 chipotle chiles in adobo, deseeded, and diced finely (use the seeds if you like the heat)
1 tablespoon sugar
8 slices bacon, cooked very crisp & crumbled reserve 1 tablespoon for garnish
1 can black beans (15 ounce), rinsed and drained
6 hard-boiled eggs, diced
8 medium red potatoes, cooked, cooled, and diced
salt & pepper
Directions:
Mix first 7 ingredients together
Toss in remaining ingredients except 1 tablespoon bacon, salt, and pepper. Mix well.
Taste to see if you need to add salt and pepper
Top with bacon bits
Chill & Serve
Mexican Chopped Salad With Honey-Lime Dressing
Ingredients:
2 1/2 cups chopped romaine lettuce
1 can black beans (15.5 oz), rinsed and well drained
3/4 cup chopped seeded tomato
3/4 cup chopped peeled jicama
3/4 cup fresh corn kernels, uncooked
3/4 cup thinly sliced radishes
1/2 a ripe avocado, diced
1 red bell pepper, chopped
1/4 cup crumbled reduced-fat feta cheese
Honey-Lime Dressing:
1/4 cup fresh lime juice
1/4 cup olive oil
2 tbsp honey
2 tbsp finely chopped fresh cilantro
1 garlic clove, peeled & minced
1 tsp chopped jalapeño pepper
Crab Cakes With Spicy Avocado Sauce
For Sauce:
1/2 ripe medium California avocado, pitted and peeled
1 tsp low-fat mayonnaise
1 tbsp fresh lime juice
1/4 tsp salt
1/4 tsp sugar
1 fresh jalapeño or serrano chile (including seeds), stemmed & quartered lengthwise
1/4 cup fat-free milk
For Crab Cakes:
1 pound jumbo lump crabmeat, picked over, and coarsely shredded
3 tbsp low-fat mayonnaise
1/4 cup minced fresh chives
1 tbsp fresh lemon juice
1 tsp Dijon mustard
1/4 tsp black pepper
1/2 cup panko (Japanese bread crumbs)
1 tbsp unsalted butter
2 garlic cloves, smashed
1/2 tsp herbes de Provence or 1/4 teaspoon dried thyme
1/4 tbsp salt
Preparation:
Put oven rack in middle position and preheat oven to 400°F. Line a baking sheet with foil.
Make Sauce:
Pulse avocado with mayonnaise, lime juice, salt, sugar, and one fourth of chile in a food processor until chile is finely chopped. Add milk and purée until smooth. Add more chile if desired, processing until smooth. Transfer sauce to a bowl and chill, cover.
Make Crab Cakes:
Stir together crabmeat, mayonnaise, chives, lemon juice, mustard, pepper, and 1 tablespoon panko in a large bowl until blended well, then chill, covered.
Melt butter in a medium nonstick skillet over moderate heat, then cook garlic, stirring, until golden and fragrant, about 2 minutes. Add herbes de Provence, salt, and remaining 7 tablespoons panko and cook, stirring, until golden brown, about 6 minutes. Transfer crumbs to a plate to cool. Discard garlic.
Divide crabmeat mixture into 4 mounds on a sheet of wax paper. Form 1 mound into a patty, then carefully turn patty in crumb mixture to coat top and bottom. Transfer to a baking sheet and repeat with remaining 3 mounds, then sprinkle remaining crumbs on top of crab cakes. Bake until heated through, about 15 mins. Serve crab cakes with sauce.
Main Meal
Grilled Steak
Ingredients:
4-5 choice beef steaks
1/2 cup soy sauce
2 tsp olive oil
2 tsp ketchup
1 tsp minced garlic
1 tsp oregano
1 tsp pepper
Directions:
Blend all ingredients, pour over steaks.
Marinate 3 hours, turning frequently.
Grill to your liking.
Bacon-Wrapped Filet Minion
Ingredients:
4 tenderloin steaks or filet mignon
Sea salt
Black pepper
4 strips of bacon
2 Tbsp butter, unsalted
1. Look over your meat for any silver skin or fat that was left around the outside of the steaks. Use a sharp knife to remove it without removing any meat. If you purchased the whole tenderloin, the filet mignon is the smaller- middle end of the tenderloin. Cut your steaks the width of bacon and trim them. You will want to season the meat before you wrap it with bacon. Just keep it simple and use sea salt and and fresh-cracked black pepper. Rub the seasoning in gently on all sides just before cooking.
2. With the steaks seasoned and ready to go, the next step is to wrap them with the bacon. Choose a fresh, quality bacon that is wide enough to cover the entire exterior of the steak. One piece of bacon will be enough per steak. Just wrap it around firmly with out pulling it tight, just snug. Stick a toothpick through the overlapping portion to keep the bacon in place. You should notice that the filets are round now, and that is an added bonus of wrapping them. The steak has much more appeal in this shape.
3. Heat a frying pan up to medium on the stove while heating the oven up to 400 degrees F. Melt a Tbsp of butter in the pan and stir it around until the foam subsides. Once this happens, lay a couple filets in the pan. Try to have twice as much pan as meat. This will give you a hot spot to flip the meat to. Fry the steaks until they are brown to dark brown. Flip them over to the unused portion of the pan and repeat. Once the first two steaks are done, remove them to a plate and cook the rest of the steaks the same way.
4. Once all the steaks are done, turn the heat off on the pan and return all the steaks to it.  You will finish your steaks in the oven. To cook your steaks to the way you like them, use a thermometer to check them before they go in and then in 2-3 minute intervals as they cook in the 400 F oven. Rare meat is 120–125 degrees, medium is 140–150 degrees, and well done is not allowed. Before serving the steaks, remember to let them rest for a 5-10 minutes loosely covered with aluminum foil.
Ribs
Ingredients:
2 1/2 pounds country style pork ribs
1 tablespoon garlic powder
1 teaspoon ground black pepper
2 tablespoons salt
1 cup bbq sauce
Directions:
Place ribs in a large pot with enough water to cover. Season with garlic powder, black pepper and salt. Bring water to a boil, and cook ribs until tender.
Preheat oven to 325 degrees F (165 degrees C).
Remove ribs from pot, and place them in a 9×13 inch baking dish. Pour barbeque sauce over ribs. Cover dish with aluminum foil, and bake in the preheated oven for 1 to 1 1/2 hours, or until internal temperature of pork has reached 160 degrees F (70 degrees C).
Mushroom Risotto
Ingredients:
8 cups vegetable broth, low sodium
3 tablespoons olive oil, divided
1 onion, diced, divided
2 garlic cloves, minced, divided
1 pound fresh portobello and crimini mushrooms, sliced
2 bay leaves
2 tablespoons fresh thyme, chopped
2 tablespoons fresh Italian parsley, chopped
2 tablespoons butter
Salt and pepper
1 tablespoon truffle oil
1-ounce dried porcini mushrooms, wiped of grit
2 cups Arborio rice
1/2 cup dry white wine
1/2 cup fresh Parmesan cheese, grated
Fresh Italian parsley, for garnish
Directions:
Heat the broth in a medium saucepan and keep warm over low heat.
Heat 1 tablespoon of oil in a large skillet over medium heat. Add 1/2 onion and 1 clove garlic, cook, stirring, until translucent, about 5 minutes. Add the fresh mushrooms, herbs and butter. Saute for 3 to 5 minutes until lightly browned, season with salt and pepper. Drizzle in truffle oil then add the dried porcini mushrooms which were reconstituted in1 cup of warm vegetable broth. Season again with salt and fresh cracked pepper. Saute 1 minute then remove from heat and set aside.
Coat a saucepan with remaining 2 tablespoons of oil. Saute the remaining 1/2 onion and garlic clove. Add the rice and stir quickly until it is well-coated and opaque, 1 minute. This step cooks the starchy coating and prevents the grains from sticking. Stir in wine and cook until it is nearly all evaporated.
Now, with a ladle, add 1 cup of the warm broth and cook, stirring, until the rice has absorbed the liquid. Add the remaining broth, 1 cup at a time. Continue to cook and stir, allowing the rice to absorb each addition of broth before adding more. The risotto should be slightly firm and creamy, not mushy. Transfer the mushrooms to the rice mixture. Stir in Parmesan cheese, cook briefly until melted. Top with a drizzle of truffle oil and chopped parsley before serving.
Black Bean Nacho Pizza
Ingredients:
1 cup(s) canned black beans, rinsed
1/2 cup(s) chopped jarred roasted red peppers
1  garlic, quartered
1 tablespoon(s) chili powder
1/4 teaspoon(s) salt
Yellow cornmeal, for dusting
1 pound(s) Whole-Wheat Pizza Dough, or other prepared dough
1 cup(s) shredded Monterey Jack cheese
2  medium plum tomatoes, diced
4  medium scallions, thinly sliced
1/4 cup(s) chopped pitted ripe black olives
2 tablespoon(s) chopped pickled jalapeños
Directions:
Preheat grill to low.
Place beans, peppers, garlic, chili powder, and salt in a food processor and process until smooth, scraping down the sides as needed.
Sprinkle cornmeal onto a pizza peel or large baking sheet. Roll out the dough (see Tip) and transfer it to the prepared peel or baking sheet, making sure the underside of the dough is completely coated with cornmeal.
Slide the crust onto the grill rack; close the lid. Cook until lightly browned, 3 to 4 minutes.
Using a large spatula, flip the crust. Spread the bean mixture on the crust, leaving a 1-inch border. Quickly layer on cheese, tomatoes, scallions, olives, and pickled jalapeños.
Sides
Garlic Mashed Potatoes
Ingredients:
4-6 Russet potatoes
1 Garlic
1/3 cup Coarse sea salt
Olive Oil
1.5 Tbs Unsalted butter
1/2 – 2/3 cups Heavy whipping cream
Kosher salt
Freshly cracked black pepper
Directions:
Preheat oven to 400° F , take a piece of aluminum foil (about 12 x 24 inches), fold up the edges to create a "container" and place on a cookie sheet. Spread the sea salt at the bottom of the foil. Clean the potatoes in water with a veggie brush and poke them with a fork (you do NOT want them to explode in your oven – it is a lot of cleaning) and place them with a little space between on the salt on the foil container. Drizzle olive oil over each potato and put them in the oven.Cut the bottom off the garlic so that the garlic "meat" is visible, take off as much paper as possible but without having the garlic fall apart. Place the garlic in the middle of the potatoes (cut side up) and drizzle some olive oil over it. After about 30 – 40 minutes remove the garlic and let it cool.When the potatoes are done usually takes about 45 – 60 minutes. – using a tooth pick you should easily get to middle of potato – use a knife to split the potatoes in half and holding them with a wet (cold water) paper towel, spoon out the "potato meat" into a serving dish. Add the butter and mash the potatoes, at this point you can also squeeze 8 – 12 garlic cloves (depending on size) into the mix (they should have cooled town enough to handle and by pressing at the bottom of the clove it should slip out of the paper shell), while mashing add the cream/milk until you get a consistency that creates nice tops of the mashed potatoes when pulling the masher out of the potatoes. Add salt and pepper to taste.
Green Beans And Bacon
Ingredients:
3 tablespoons butter
8 slices bacon, diced
2 pounds fresh green beans, trimmed and cut in 1-inch pieces
freshly ground black pepper, to taste
Preparation:
In a large skillet over medium heat, melt butter; add bacon. Fry bacon until crispy; set aside.Bring a pot of water to a boil; add beans. Boil for about 10 minutes, or until desired doneness is reached. Drain beans; add them to the skillet with bacon and butter. Toss well and heat until well coated. Add pepper
Dessert
Creme Brulee Cheese Cake
Ingredients:
2/8 ounce packages cream cheese, softened
1/2 cup granulated sugar
1 teaspoon vanilla
2 eggs
1 egg yolk
1 (9 inch) graham cracker pie crust
1/2 cup brown sugar
1 teaspoon water
Directions:
Preheat oven to 350°.
Mix cream cheese, granulated sugar, and vanilla at medium speed with an electric mixer until well blended. Add the eggs and egg yolk, and mix until thoroughly blended.
Pour the batter into the graham cracker crust.
Bake the pie in a 350° oven for 40 minutes or until the center is almost set. Cool. Refrigerate for 3 hours or overnight.
Just before serving, heat broiler. Mix together the brown sugar and water. Spread the sugar mixture over the top of the cheesecake. Place the cheesecake on a cookie sheet, and broil 4 to 6 inches from the heat for 1 to 1 1/2 minutes or until the top is bubbly.
Apple Crumble
Filling:
4 large Golden Delicious apples (about 3 pounds)
1/4 cup sugar
1 lemon, juiced
2 tablespoons all-purpose flour
1/2 teaspoon ground cinnamon
Topping:
1 cup walnuts or pecans, roughly chopped
1 cup all-purpose flour
1 1/4 cups rolled oats
1/2 cup packed dark brown sugar
1 teaspoon ground cinnamon
Pinch fine salt
8 tablespoons (1 stick) cold butter, cut into small pieces
Vanilla ice cream, for serving, optional
Directions:
Position an oven rack in the center of the oven and preheat to 350 degrees F.
Peel, core, and slice apples into 1/4-inch slices. Place apples in a large mixing bowl and toss with sugar, lemon juice, flour, and cinnamon. Pour into a lightly greased 9 by 13-inch baking dish, and spread out into an even layer. Set aside.
In another large bowl, mix together the nuts, flour, oats, sugar, cinnamon, and salt for the topping. Using a pastry cutter or your fingers, gently work in the cold butter until pea-sized lumps are formed.
Top apples evenly with mixture and bake until apples are bubbly and topping is golden brown, about 45 minutes, rotating once halfway through cooking.
Homemade Ice Cream
Ingredients:
1 cup Milk
2 tbsp Sugar
1/2 tsp Vanilla
2 cups Ice
1/4 cup Rock Salt – this can also be referred to as ice cream salt
1 Quart  Sized Ziploc bag
1 Gallon Sized Ziploc bag
Directions:
Pour milk, sugar, and vanilla into quart-sized Ziploc bag & shake
Pour ice and rock salt in gallon-sized Ziploc back & shake
Put small Ziploc into larger Ziploc.  Slosh the bag back and fourth across your countertop until the ice cream becomes nice and thick
Enjoy!